Contact us
Annemarie Bloch
Oudenarder Straße 16 Building E23, 2nd floor, 13347 Berlin, Allemagne
Come on

Meet us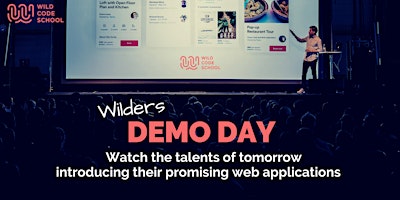 28, Apr at 19:00 CEST
Wild Code School Final Demo Day - Remote Campus
Our training courses
Explore
Web developer
5 months
700 h
Full-time
Discover more
Digital ecosystem
Join our Coding Bootcamp in Berlin to become a Web developer in one of the most vivid digital ecosystems across Europe. Courses are 100% financed by the Jobcenter & Agentur für Arbeit.

Soundcloud, Rocket Internet, and Zalando are only a few examples of Berlin's famous tech companies. Every day there are more IT startups joining the European Silicon Valley and more and more international young talents are moving to Berlin to be part of one of the biggest tech communities all over the world.
Life in Berlin
The European capital of start-ups and big tech companies offer many things to enjoy: the international culture, ancient buildings like the Berlin Cathedral and the Brandenburg Gate, famous music clubs like Berghain, historic universities where Einstein taught and the many green parks make Berlin one of the most popular cities in the world.
How to finance the course?
Discover